You are here
Mayor



PROFILE OF THE MAYOR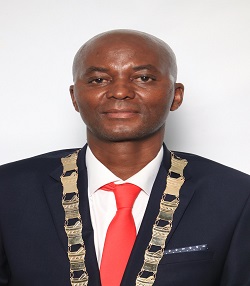 PROFILE OF THE MAYOR
CLLR. GERSON MOLAPISANE
---
Councillor Gerson Molapisane was elected as the Mayor of the Greater Tzaneen Municipality on 22 November 2021. He becomes the fourth democratically elected Mayor of Limpopo's second-biggest municipality since the formation of municipalities in the year 2000. In his Acceptance Speech at Ivory Tusk Lodge, the newly installed Mayor promised three things, 1st is to do work, second is to do work and third is to do work.
Personal Life
Molapisane was born on the 7th of February 1965 and grew up in Relela Village. He has two daughters and one grandchild. Mayor Molapisane is a member of the Lutheran Church. He spends his spare time reading or watching soccer if he is not doing his political work. He is a diehard Kaizer Chief supporter.
Educational Background
Mayor Molapisane matriculated in 1982 at Masalanabo High School. He holds a Secondary Teacher's Diploma from Setotolwane College of Education which he secured in 1986. In 1999 he obtained his Bachelor of Arts degree from the University of Limpopo which was followed by Bachelor of Education Honours also from the University of Limpopo.
Professional Life
Councillor Molapisane spent 28 years as an educator. He began his career as an educator at Masopha High School in 1987. In 1990 he left Masopha to join Matokane High School where he served as an educator, Head of Department (HOD), Deputy Principal, and Principal. As an educator his specialty subjects were History and English. In 2015 left Matokane High to join the Department of Cooperative Governance Human Settlement and Traditional Affairs as Chief of Staff in the Office of the MEC. He served as Chief of Staff until 2016. In 2016 he became the Director for Research and Policy Coordination also at COGHSTA.
Political Career
Molapisane was elected and served as a Branch Chairperson of the ANC Desmond Mahasha branch for three consecutive terms from 2008-2013. He also served three terms as the Chairperson of the South African Democratic Teachers Union (SADTU) Motupa Branch from 2011 to 2015. From 2013 to 2014, he served as the Deputy Secretary of the ANC Markshope subregion in the Norman Mashabane Region. In 2017 he was elected as the Regional Treasurer of ANC Norman Mashabane Region in the Conference held at Karibu Resort. He served as a Regional Treasurer from 2017 to 2021. Molapisane is currently the Deputy Chairperson of the ANC Norman Mashabane, a position he was elected to in September 2021.