You are here
Mayor



PROFILE OF THE MAYOR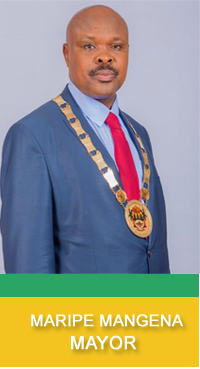 PROFILE OF THE MAYOR
MARIPE MANGENA
---
Personal Life
Maripe Mangena was born in Mogapeng Village in the late 1960's.
Educational Background
He started his primary education at Mogapeng lower primary. He then proceeded to Mmalahla Higher primary to finish his primary schooling before enrolling at Bakgaga high school. After passing matric he went to Kwena Moloto College of Education where he trained as an educator. He furthered his studies with the University of Protoria.
Professional Life
In 1992 he started working as an educator at his childhood school, Mmalahla. In 1993 he joined a local high school called Mokwane High school. In 2003 he joined Molomahlapi High school in Maruleng Municipality, Makhutswe/Lepelle. In 2006 Mangena joined Mapula Primary school in Bolobedu South as Head Of Department until 2011 after he resigned to fully focus on his work as a councillor of the Greater Tzaneen Municipality.
Political Career
Mangena got involved in politics when he was around 17 years-old as did many young people in his community. Upon arrival at the college, Mangena was nominated into the sub-committee of cultural committee of the SRC in 1989, October and was elected the head of that committee in Oct 1990 and served untill 1991 Oct. Mangena also served as the secretary of the then SANSCO of Kwena Moloto College. After returning home from Seshego, Mangena started serving his community both politically and socially. He served in the ANCYL, ANC,SANCO, SADTU-Educom at branch level from 1990 till 2014 repeatedly. In 2014 Mangena was elected as the chairperson of the ANC MARKSHOPPE sub-region Also in 2014 Mangena was elected GTM chief whip. Mangena was a branch delegate to the ANCYL national conference on 16-20 Dec 1991 at the Kwa-Ndebele College. Mangena's branch became the 2nd best ANC branch in 2011/12 in Mopani Region. Mangena was elected the Mayor of the Greater Tzaneen Municipality on 17 August 2016 during a Council Sitting in Lenyenye Community Hall. He is still the branch chairperson of the ANC Aaron Mhlanga Branch.